Today's Weekly Kiddo is the lovely little Dorothy—who goes by Dotty! (I swear this had NOTHING to do with her being selected….hee.) Miss Dotty Jr. is the delightful daughter of my amazing friend Jenny, from Frecklewonder. I have to confess I requested some older photos of Dotty for this post because I wanted to show off some of her incredible vintage baby gear. Jenny is a thrifting pro and has great style. She is living proof that you don't have to spend a mint to make your little one look like a million bucks. Jenny says that they are always on the prowl for cute vintage dresses. Dotty's style is a mix of vintage + thrifted items, with a few newer items tossed in. As you can see, it's all about the color and the polka dots for this girl! OK, take a gander at this adorable little miss: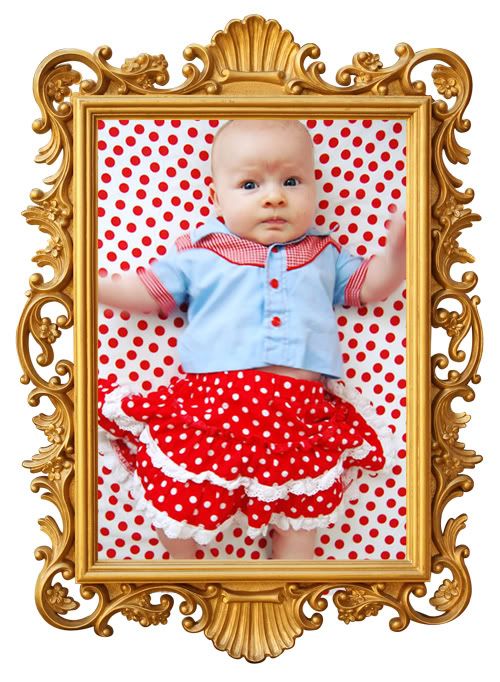 Lil Cowgirl Chic
+ vintage western shirt. Thrifted, dollar bin
+ polka dot skirt. Thrifted, dollar bin
[two bucks for an entire outfit?? you can't beat that!]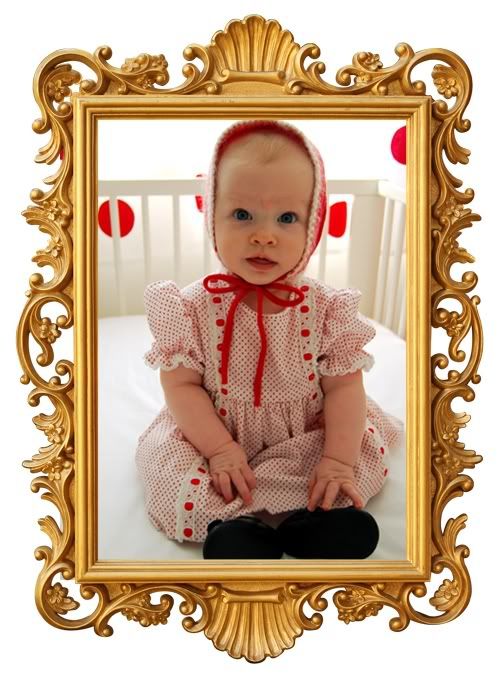 Dotty Dolly
+ vintage dress, found in the dollar bin at the goodwill (WHERE is this Goodwill? I must go…)
+ little 50s wool hat, antique store
+ tights + shoes are new
Pssst! Curtains in the background were made by dotty's crafty mommy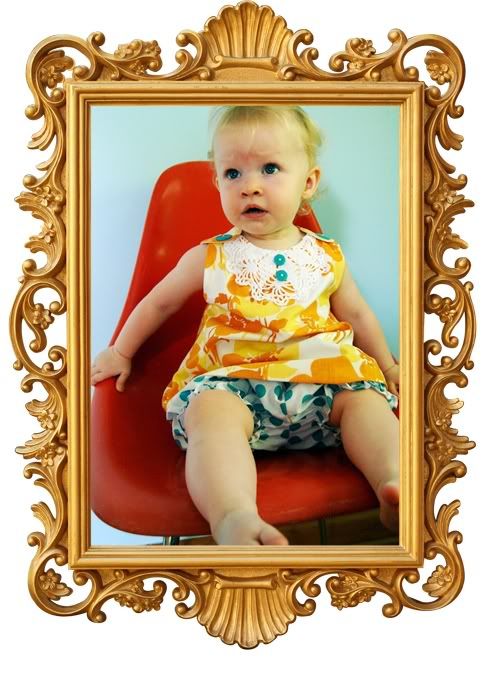 Aloha Romper
+ sweet little handmade smock shirt (made by rachel denbow of smile and wave)
+ little dotty bloomers, thifted from dollar bin (she's killing me here…)
I mean honestly! How cute is this little muffin? I asked her sweet mama to tell us a little about her girl and she told me this: "Dotty loves to dance! If she hears a beat, she just can't resist moving to it! Some of her favorite foods of the moment are graham crackers with creme cheese, banana smoothies, tofu and asparagus. She is super into reading books, drawing, snuggling her buddies, and getting "tattoos" (stamps on her hands when she visits her mama's craft room). But the best part of the day for dotty is when the school bus roars down the street bringing her big brother henry home from school!"
We are smitten with this little one for sure! A little birdie told me that she is  21 months old today. Here she is today in all her glory! HAPPY 21 months gorgeous girlie!