Oh me or my, it's a styley mashup of two of our very favorite brands! The chic, clean-happy stylings of Method meets the graphic, whimsy of Orla Kiely! Ahhhh, and all was right in the world……
Yes it's true. Dottie and I looooooove our Orla Kiely. I think she and I scooped up nearly every piece of the Target collection back when it was released! London-based Orla Kiely is one of the most noted pattern makers in the world. With her Orla fabulous retro, graphic cool, a partnership with Method seems utterly perfect! In true Method fashion, they created unique scents inspired by four of Orla's iconic prints: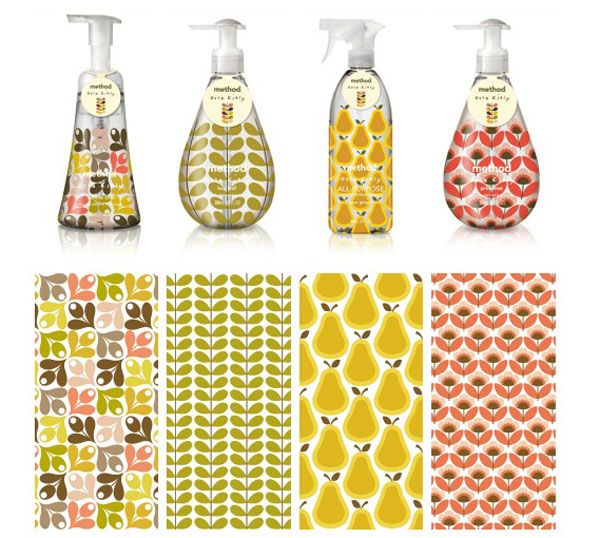 I have to share a quick silly story with you just so you know I'm serious about my lerve of Orla. One of my very very very (VERY) favorite purses in the whole wide world is my Orla Kiely handbag. A few years ago I was coveting this Orla bag like crazy: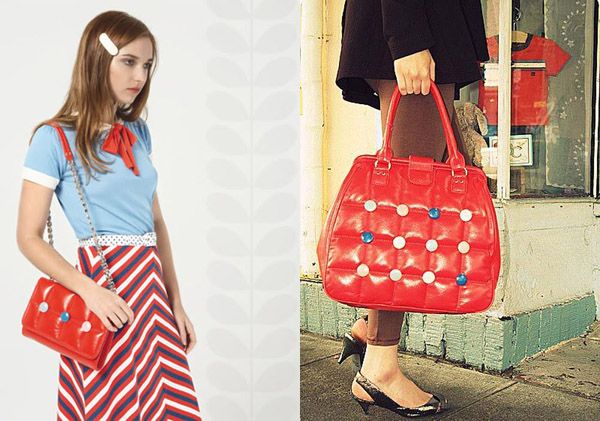 It was a bit of a twist on the usual Orla patterns and just so funky cute. It came in three different colors and in my mind, it was the perfect work bag—something I could schlep all my stuff around in for ages. The problem was, the bag was discontinued and reeeally hard to find. I was obsessed. I searched online like mad. I trolled eBay. I stalked shops. I wrote all about it on my old blog. Well, two years ago was my 8 year wedding anniversary and I was thrilled to discover that my adorable (and style savvy) hubby Greg had managed to track down THE BAG for me!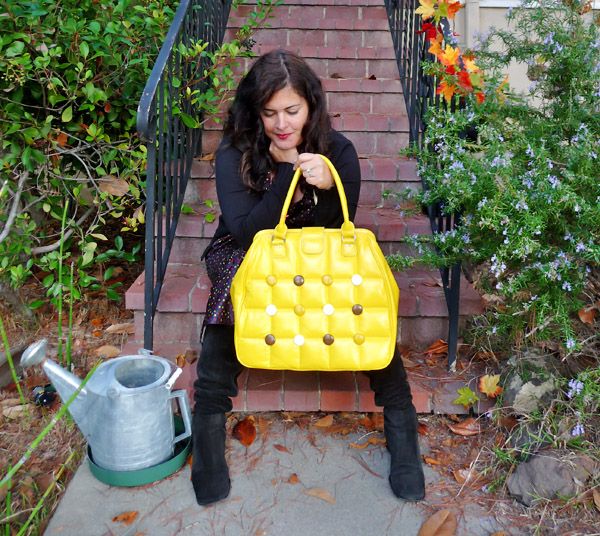 Hurray! The most excellent, lemon yellow Orla Kiely button bag! He had actually read my post and manage to find the bag. I was sooo touched by his sweetness and thought it was completely adorable and that he had read my blog and made it his mission to find it too. Except….he didn't really read that closely or he would have seen that….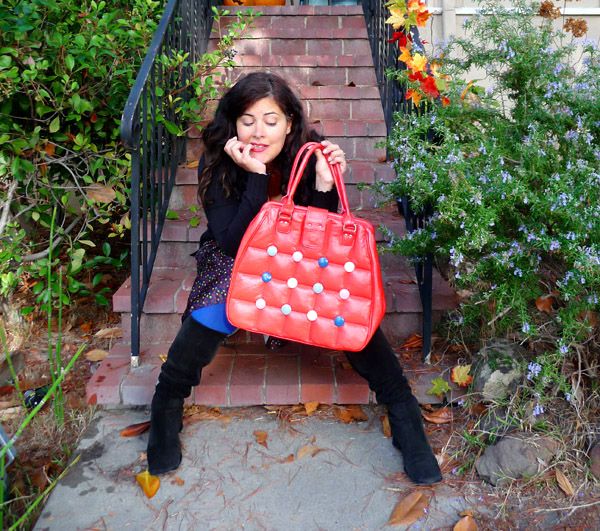 I already posted about how, after massive web sleuthing, I found it in red and bought it for myself as a treat for slaving so hard at work. EEP!!!! It was like the Gift of the Magi or something. I hadn't had a chance to show him the red bag, which had arrived the day before and as I opened up his amazingly sweet and thoughtful prezzie I kind of gulped. Do I pretend I never got the red one? Do I sell it? Hide it under the bed?? Waaah.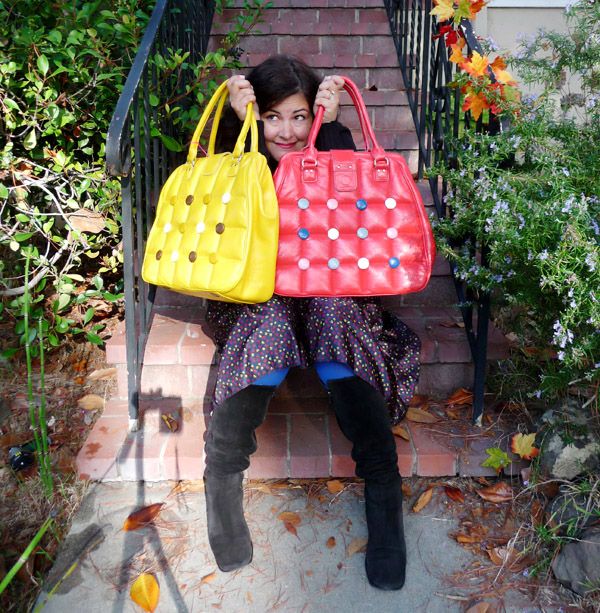 Being the good little George Washington that I am, however, I couldn't tell a lie. I had to come clean and show it to him. Greg thought it was pretty hilarious but immediately said, "Um, you know you can't keep them both right?" *sigh* I know, I know. I decided to let Wolfie pick the winning color, because I honestly couldn't decide. The yellow was so sunshiney and sweet, but the red felt more "me". And so the winning bag (drum roll please):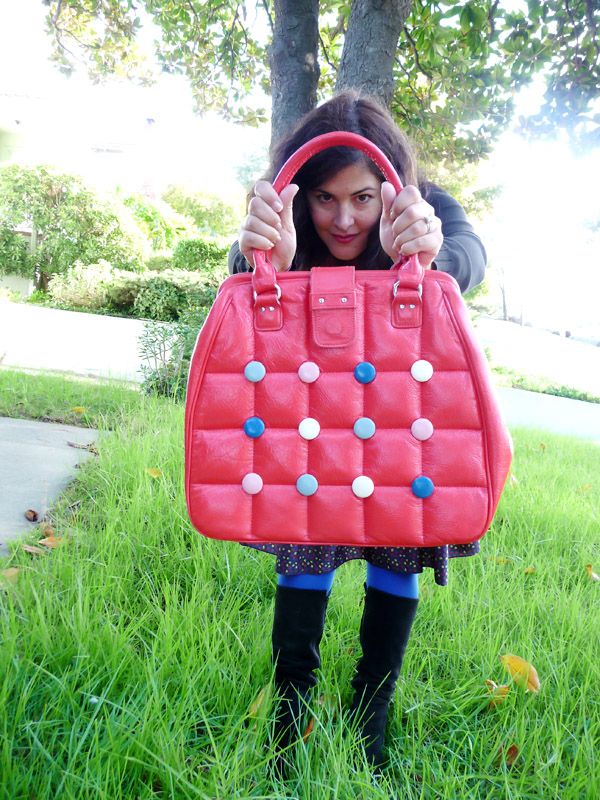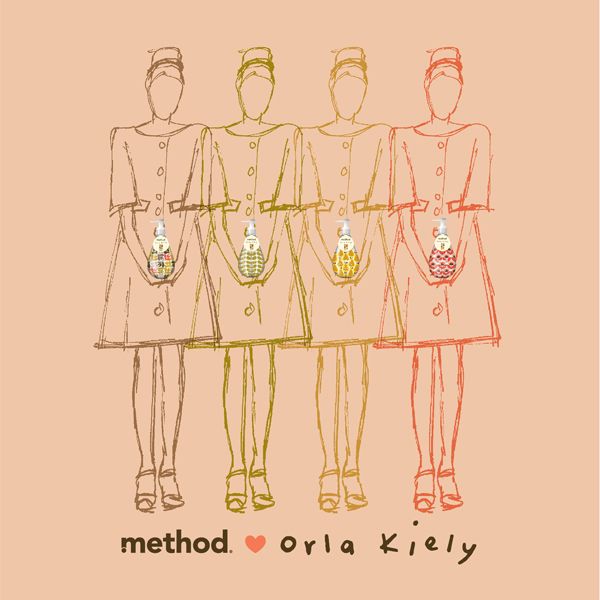 So this is a very long winded way of telling you that I am THRILLLLLLLLED with the latest Method collaboration with Orla Kiely! Let's cut to the chase here. The packaging? Gorgeous. These little cuties will liven up any kitchen counter or bathroom.
Of course it's what's INSIDE the bottles that is the best part. They may look pretty, but they still clean like crazy, are free of dirty ingredients like parabens, phthalates, triclosan and edta, and of course are packaged in 100% recycled plastic.
And the scents? AMAZING. Ginger Pear (yum!), Bay Leaf (a zippy, fresh scent), Primrose (a delicate, non-cloying floral that is so pretty) and Vanilla Chai (note to self: stock up on this cozy fragrance for autumn). Each scent/pattern comes in regular and foaming hand soap, with Pear Ginger also available as dish soap and as a special edition of our favorite All Purpose Cleaner. This is a limited-edition collection, so scoop 'em up at Target while you can! TIP: Check the cleaning supplies aisle for the Ginger Pear but check the head soap section for all the other scents! I thought my Target only had Ginger Pear but realized the Vanilla Chai and the rest were in another aisle!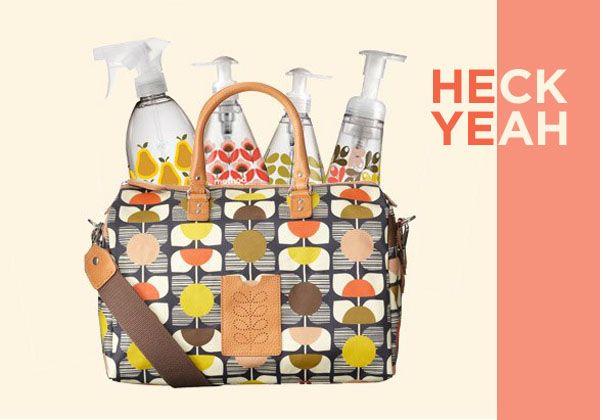 THE BEST METHOD GIVEAWAY YET.
OK, so the best part of this month's Method Mania? Skip on over to the Method facebook page (and click the Orla Kiely tab) to enter to WIN AN ORLA BAG STUFFED WITH PRETTY METHOD PRODUCTS!
Yep. You read that correctly. Five lucky grand prize winners will receive an Orla Kiely bag packed with the entire limited edition collection, valued at $235. It runs from August 22 thru August 31, and 30 runner-ups will receive a little mini Method + Orla Kiely kit filled with a hand soap and dish. Alas, the contest is only open to U.S Residents. Click here to enter!
Have you smelled this amazing line yet? Do you have a favorite scent??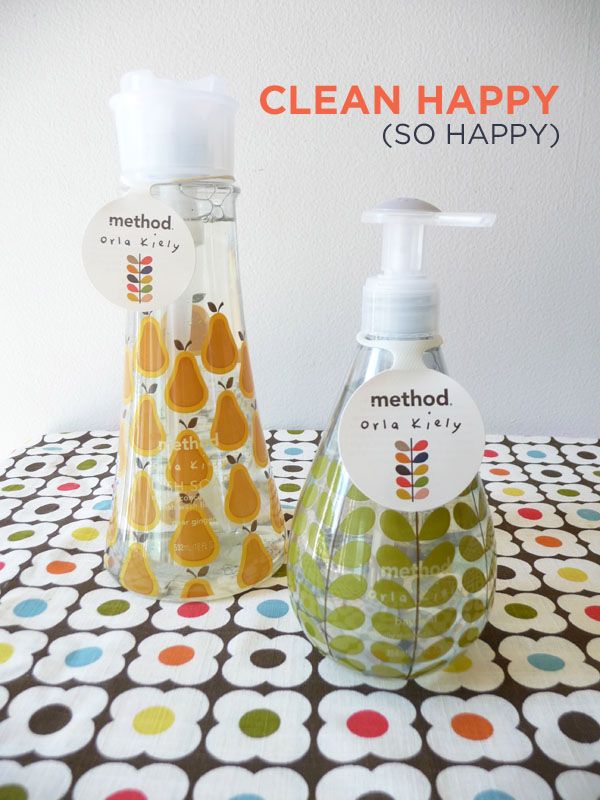 This post brought to you by 

but all opinions are always our own. Seriously, we love this stuff. To read more on Method's green practices, ingredients and philosophy, go here!