Hi hi Everyone!
Well, it's officially Halloween time here at the Modern Kiddo HQ—in fact we have our spooktacular header thanks to our gal, Pilgrim. Three cheers for Ms. Pilgrim for rocking our worlds! In honor of this time of year, today's weekly vintage clothing round up will feature all vintage Halloween costumes—and early enough so you can purchase them in time for October 31st.  If I do say so myself, we've got some real pips in here!
So, let's start off with a bang with this little gem.  Oh wow wow wow wow. Wow.  This is spectacular. I love the feather. It's like she just hopped off that circus horse. From Etsy seller, Get Lucky Vintage.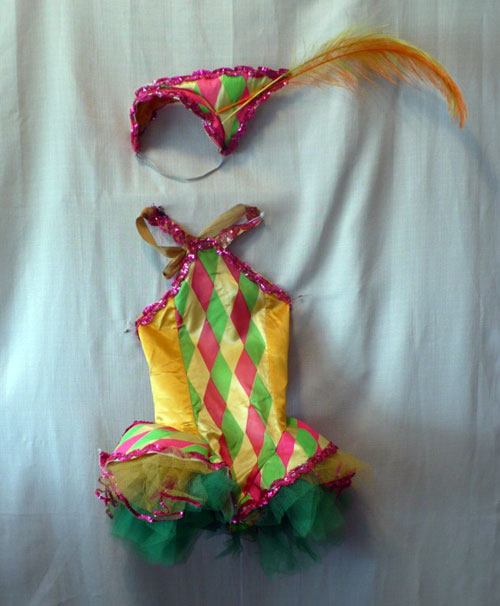 Who hasn't enjoyed the delights of a Ben Cooper Halloween costume when they were young? Well, your little one can still enjoy that full face mask experience and fancy hospital-tie, shift costume too! Like this vintage Cinderella costume from eBay seller,   stvinsthriftybin. I gotta say that when I think dressing up a Cinderella I might not choose to have a pumpkin carriage on my dress. But that's just me.  Regardless the kitsch factor on this dress just hit eleven.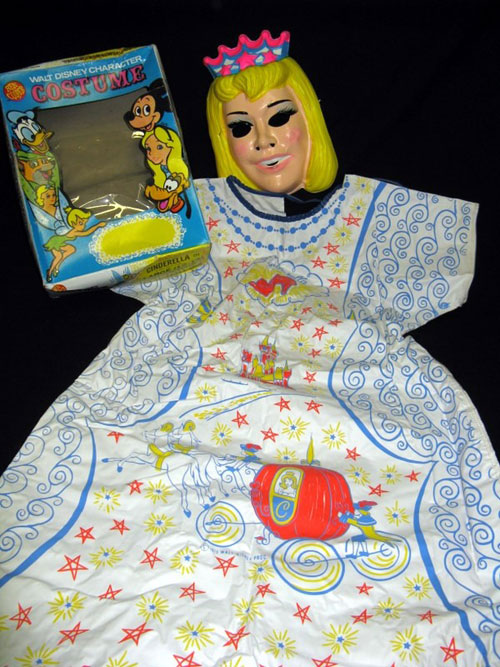 This little vintage find is dedicated to my parents who bought the same train conductor overalls for my brothers 45 years ago to wear when they would play with their trains.  And that were handed down to me for one Halloween to wear to go as a train conductor.  These  vintage kid sized train engineer overalls from eBay seller, 3744Paulette would be perfect for any Thomas the Tank Engine loving kid!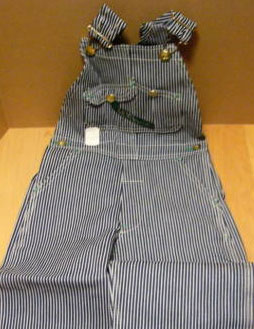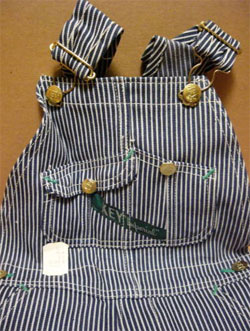 I love this little black vintage dress that with the right accessories could totally become a wonderfully witchy dress, yes? From  eBay seller Volta-Vintage.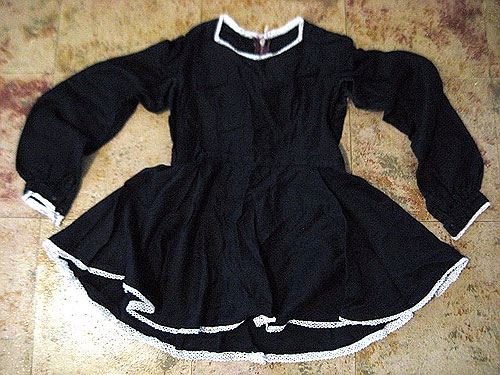 How could I not include at least one vintage cowboy shirt for potential Halloween costume. And this one is a real pip.  Because nothing is cuter than a being a little bit country on Halloween.  From Ebay seller, Jessiebelle999.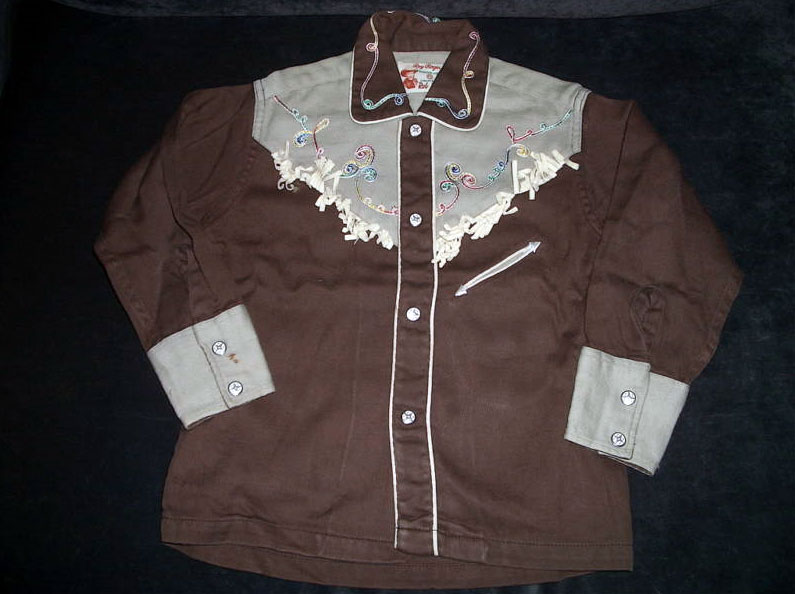 You can't have the Lone Ranger with out the awesomeness known as Tonto.  I've always been Team Tonto, so this great fringe shirt just made me smile for miles.  From eBay seller, MargosMedley.
I found not one, but two great vintage kiddo navy uniforms.  For the right little girl, she could be Shirley Temple with that outfit.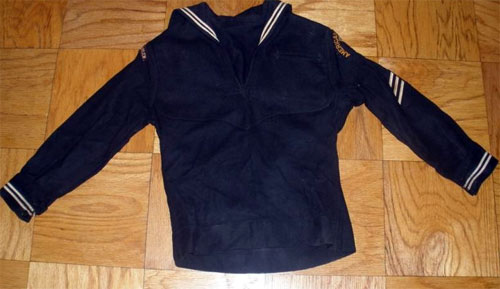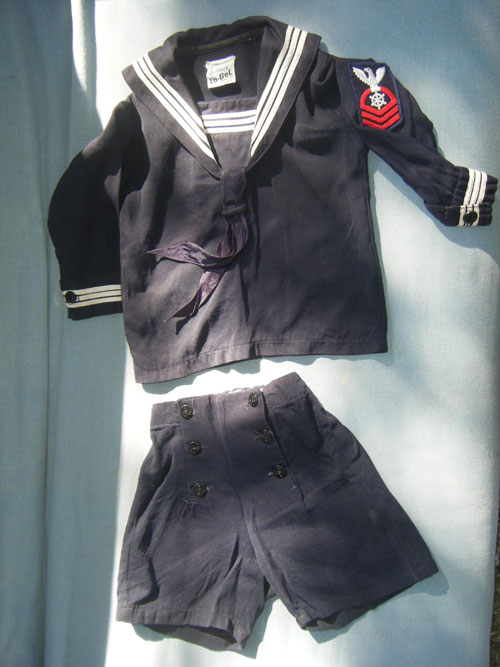 Now if I could only find the cop and a construction worker we'd have a great Village People costume party.
Seriously, you gotta love Ben Cooper–that guy will turn any misc. one hit wonder into a costume. Case in point–Bat Fink.  For those not in the know, Bat Fink was a short cartoon that mocked Batman and the Green Hornet that ran in the 1960s and was totally an underground hero until it was recently picked up by Cartoon Network.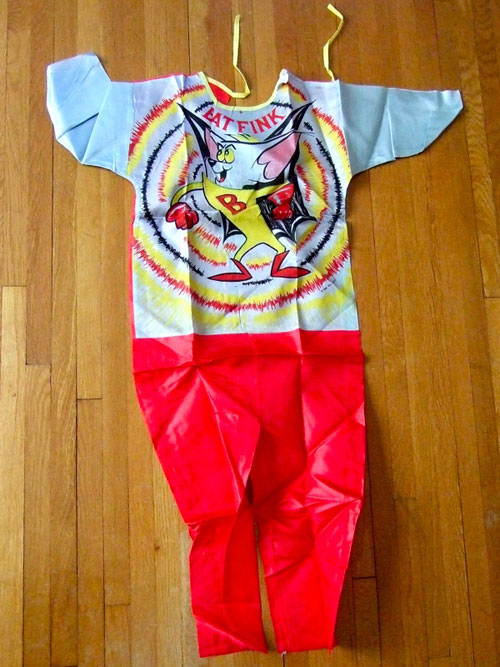 It is totally the hipster cartoon reference to make any kid wearing this would get knowing nods from the cool kids' parents. It totally trumps going as DJ Lancelot. Â  Hey! This inspired my Halloween costume. I'll go as a Hipster Dinosaur! From eBay seller, asisterfun.
OK, I have to share one more vintage witch costume with you. And it's a doozy.  I mean, the cats alone. From Etsy seller, Iciernia.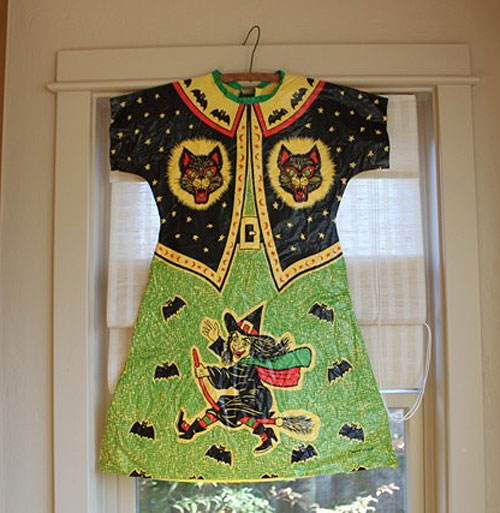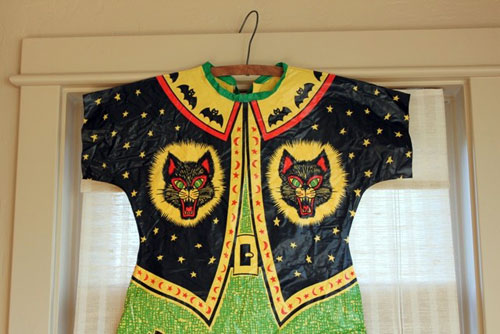 Now you might remember in my homemade Halloween post a couple of weeks ago and my bitterness over my mother's lack of sewing skills over a chicken costume.  Well, I think this vintage chicken costume was what I had in mind. And it is genius.  That lace covering totally looks like chicken feathers. It is spectacular in all of its chickeny goodness! From eBay seller, onealphafem.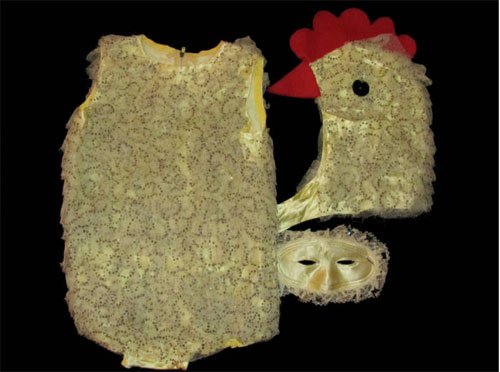 Can't decide between going as someone from Star Wars, Dukes of Hazzard or Strawberry Shortcake? Well, lucky for you, eBay seller Coocoostarwarsfan has all three of them with a starting bid of 49 cents!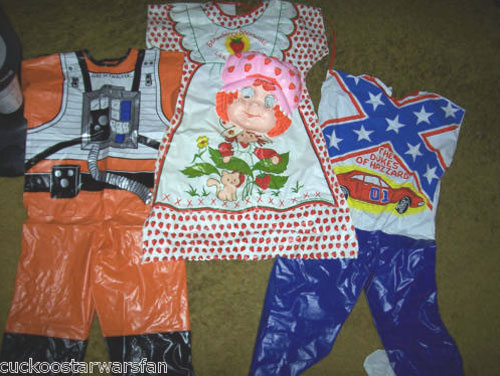 Now this vintage dress is a great base for so many Halloween costumes. You could do Marie Antoinette, Martha Washington–or even pull it back to create a bustle for a more Victorian look–Madam Curie anyone? From Etsy seller, Magnolia Vintage.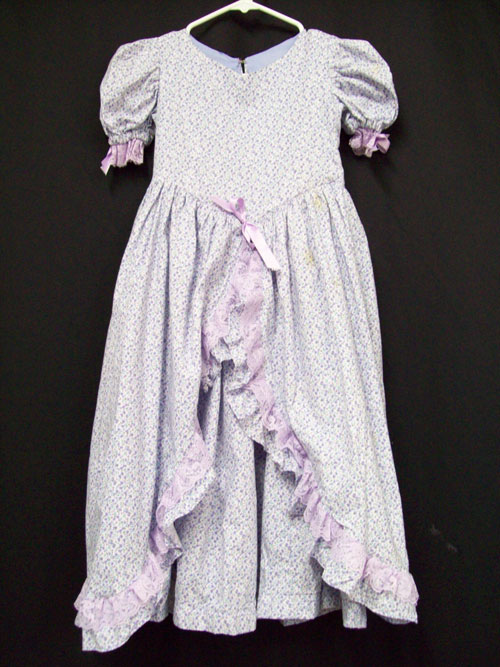 Help your little girl connect with her inner Annie Oakley with this great cowgirl costume. In a big girl size 12 to boot! Start teaching her the words to "Anything You Can Do, I Can Do Better" now… From eBay seller, abstuff.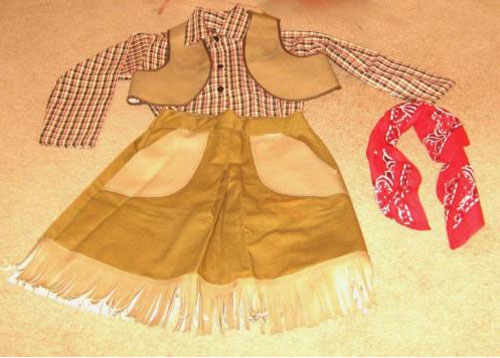 Hoo Hoo Hoo wouldn't want to go as a sassy hooty owl costume from vintage kid's Halloween costume maker, Ben Cooper. From Etsy seller, Ira Mency.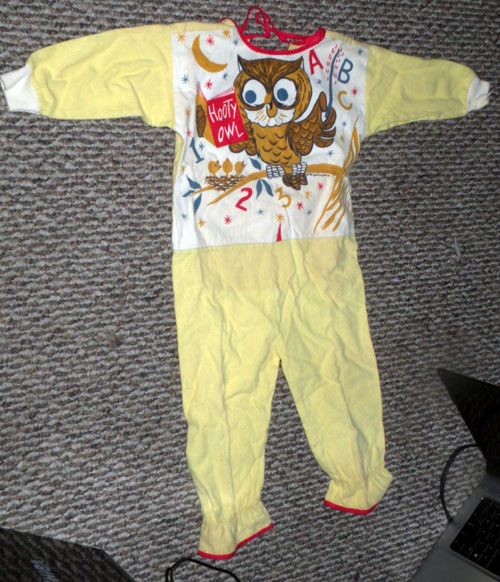 When most people think of PAAS, they think of those fizzy tablets that color water for dying eggs.  But the PAAS marketing team saw that they needed to extend beyond Easter to another Holiday. Like Halloween with kiddie make-up.  I don't know if I could put 25 year old lead-sodden paint on my kid, but the box is priceless.  That poor kid dressed as "The American Star" is just asking to have her candy taken from her,  but I totally dig Baroness Von Boo and Queen Astra! From eBay seller, rusty33150.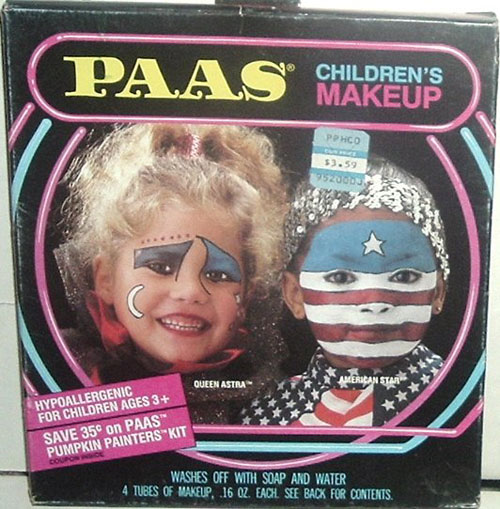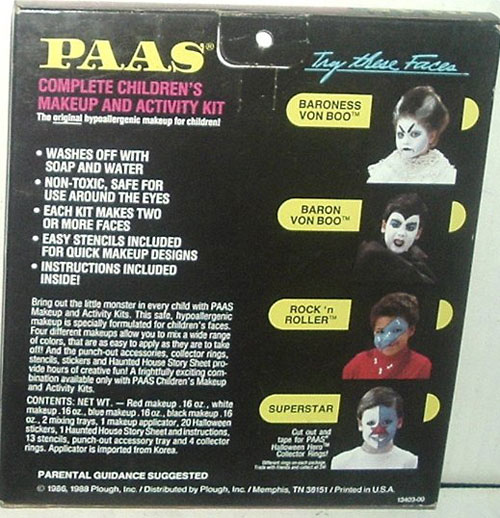 Be a clown! A cute vintage baby clown costume that can be snuggy in the stroller!  By Etsy seller, VaydaSophia's Boutique.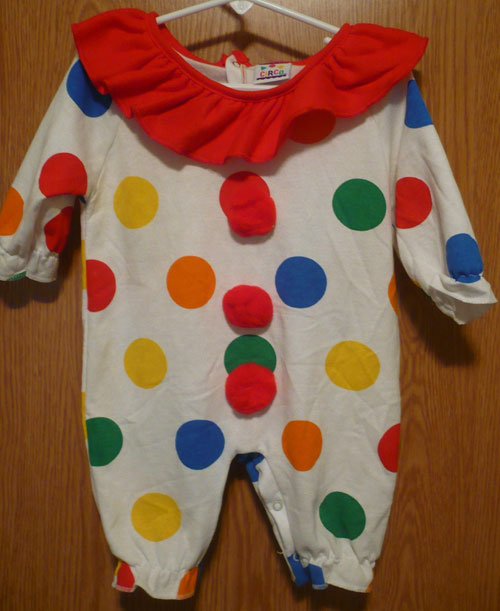 This costume was totally bought by some mother who didn't want her daughter rooting around her Hermes scarves to complete her gypsy costume.  "Here honey, why don't you just wear this outfit instead…"  But isn't the box killer?  And the mask is glow in the dark. How badass would that be to walk around with that gem! From Etsy Seller, GreenGables62.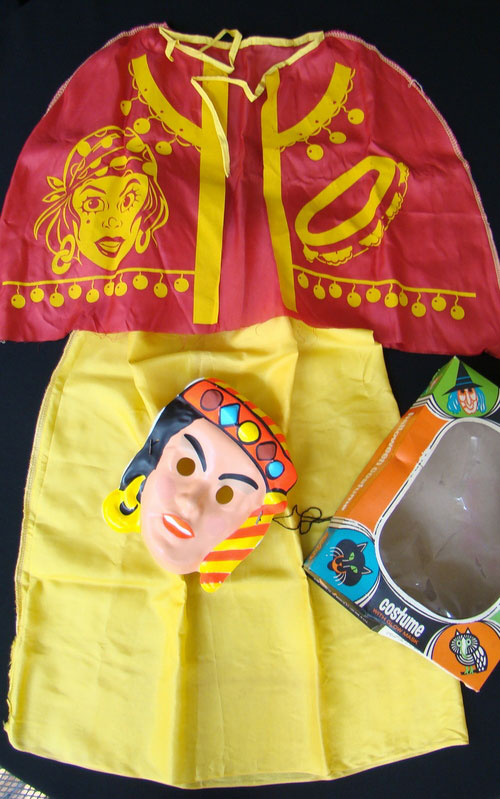 If none of these gems float yer boat and you are determined to make your own Halloween outfit for your little one, check out this grand book–1975 Scholastic book on how to make no-sew costumes.  Genius. Nay, super genius! From Etsy seller, MidWest Girl.
How great are all of those?? Amazing! OK , we have a wee favor to ask of you. Voting was reset over at Top Mommy Blogs and we'd love to get back on top with a little help from our fabulous readers. If you are a fan of our blog, could pretty please click the special Modern Kiddo link below and then click once again on the words "Click to Vote" to register a vote for Modern Kiddo. (It never says our name, just "Click to Vote for the blog you just came from".) We would appreciate it ever so much!!


PS You can vote once a day, if you are so inclined (and you'll find the little brown "Vote for Kiddo" banner always hanging out on the left over there). THANK YOU SO MUCH! Be sure to come back this afternoon when Alix will have some more vintage kiddo fun for everyone. Happy week for all!