Well friends, I hope you had a dandy weekend frolicking around with your friends and family. Â I had a grand one with a proper two year old Peach and saw wonderful friends and did a fair share of laughing this week. I'll give a bigger update later!
But of course a weekend wouldn't be a weekend without a bit of quality time online looking for all sorts of vintage kiddo goodies for you all, my friends!
I don't know what I love more here–the wonderful vintage flamingo pink go-go dress or the sassy gal wearing the flamingo pink go-go dress. From Ebay seller, Kingston Avenue Vintage.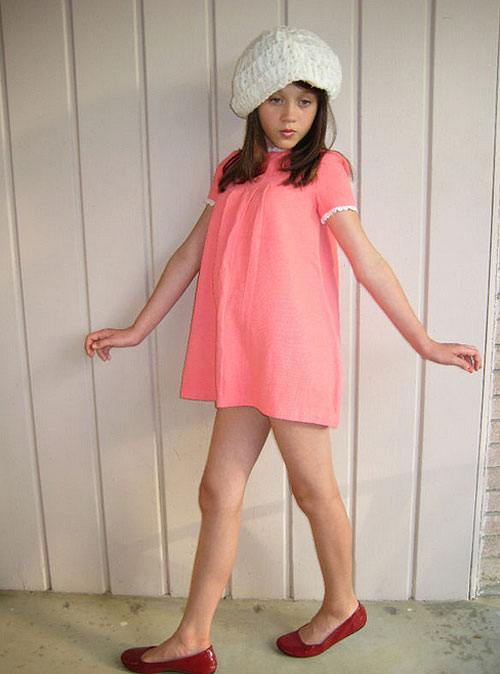 These vintage shovels are a terrific example of how a simple but charming toy when placed with others can turn into a wonderful and unexpected piece of art in a child's room as well as anywhere in the house! From Etsy seller Sushipotsparts.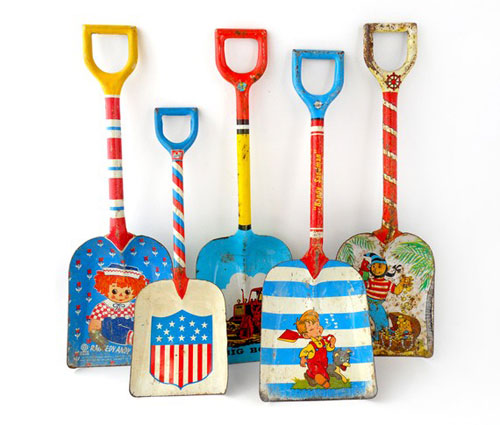 Plaid pants on boys are so cute and very hot right now. Â But you can always find the original plaid pants like these vintage beauts from Ebay seller, akcache.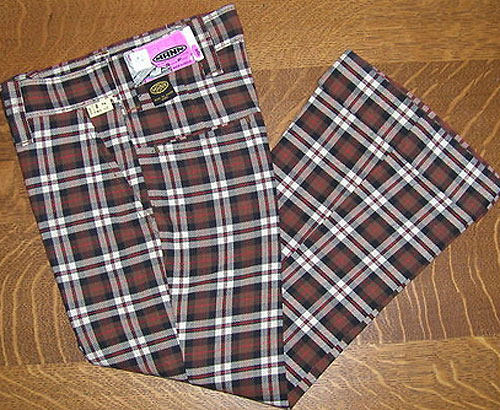 I guess Oujia boards and Tarot cards weren't groovy enough for kids in the sixties, so that's why Mattel created Mystique Fortell cards! Sadlly, just the case, but what great graphics, eh? From Etsy seller, Sofralma.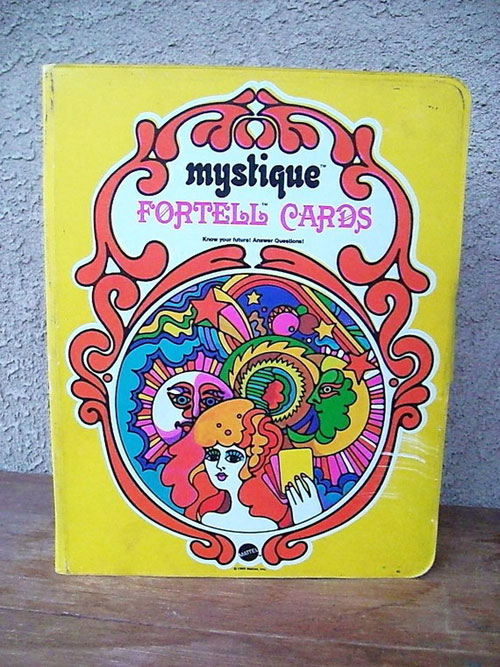 I am a huge mary jane fan. Â And it started early for me. Â And it would have started earlier if I had THESE AMAZING SHOES. Â Want want want. From Ebay seller, Virginia's Vintage.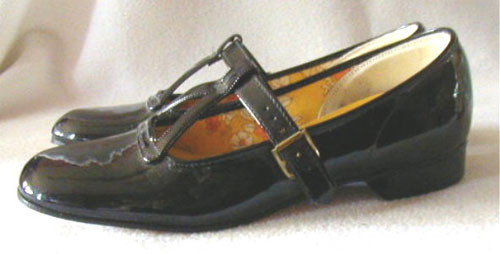 The circus is in town with vintage Fisher Price awesomeness! I remember that elephant so well–even the pebbly texture of the legs. Â From Etsy seller, Toys of the Past.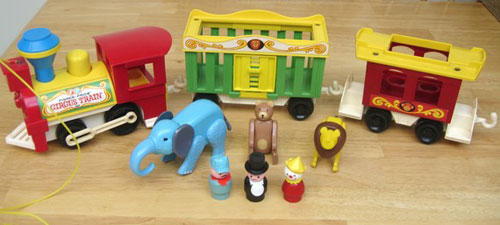 RocketGirl hipped me to this charming bit of  candy cane cuteness, so sweet that you just can't help but smile. From Etsy seller, Kyssa Vintage.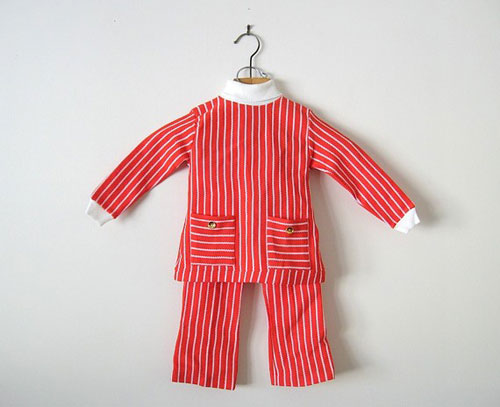 I just wrote about how knitting is hurting my hands and I love a good vintage knit sweater. Well, Miss Lish from Lishyloo Vintage to the rescue with this perfect little vintage blue sweater which would be a great addition to any little kiddo's wardrobe.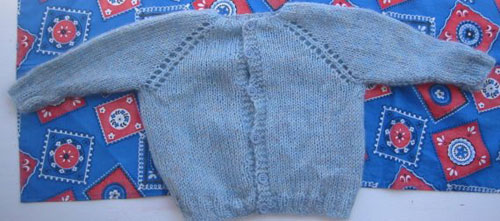 I wish I was a fly on the wall in the game marketing department at Western Board Games when this gem was through of. Let's make a game around blowing little plastic balls around! GENIUS! Â Well, there is genius in the board game cover. Check out the chick in pink! Â That's worth it alone! From Etsy RecycledStylz.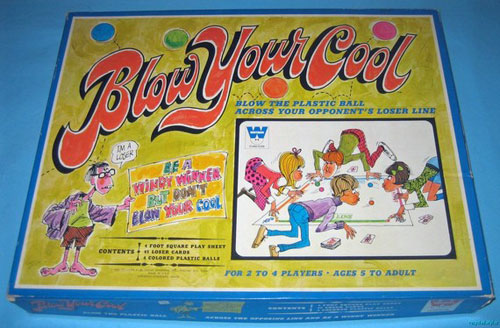 I personally have never been a fan of puzzles as art to put on the wall, but I gotta admit that I totally love this "Charming Chatty Framing Tray" puzzle, which I think was a giveaway young American Airlines travelers were given to put together on the fold down trays on the airplane. Â This beats salted peanuts any day of the week! From Etsy seller, MyBeadsandBooks.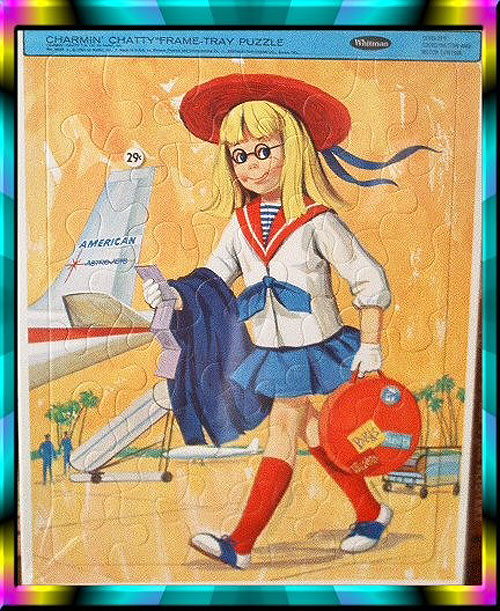 Alix and I met a wonderful lady who is sure to become a wonderful friend this weekend who had one of the most amazing house and collection of vintage goodies that had us drooling.  And she had a Little Miss No Name. Surely you remember her from Alix's hilarious doll post awhile back, yes?  So, how could I not get back home and find one on Ebay, right? Our friend Karen used to have one in her bathroom, but it depressed her guests too much.  Hee hee! From Ebay seller, OlgaStar.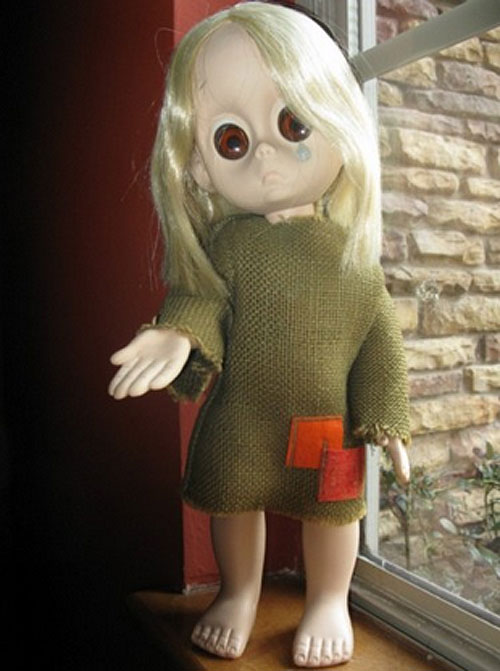 Hee hee! Happy Monday, ya'll!!!