Howdy folks! With lilacs in bloom and days getting longer, owe just can't help but push their winter duds into the farthest corner of the closet and pull out the finery of spring and summer.
Now, this little corduroy tie top vintage dressy making good use of ric rac.  But let's gild that lily with some widdle birdies and tulips.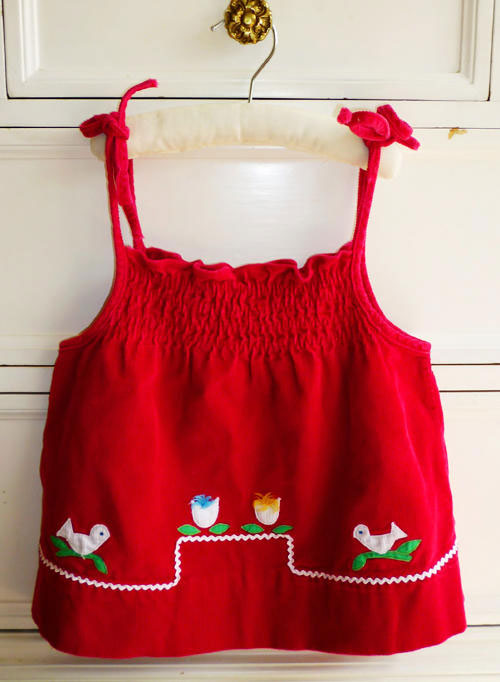 Where do you find such goodies, Oh Sydney?
Swim lessons surely lurk in the folds of summer. Check out these sweet boys knit striped swim trunks.  They are all the rage in Europe and are becoming big stateside to boot! I know with swim wear, you want new, and these swim trunks are old stock,  means they were never sold and never worn! Woohoo! The red pair has a tag. The brown pair doesn't.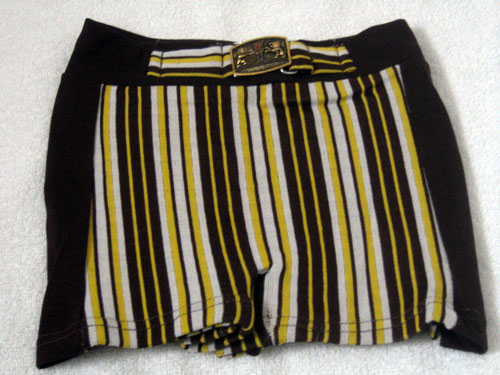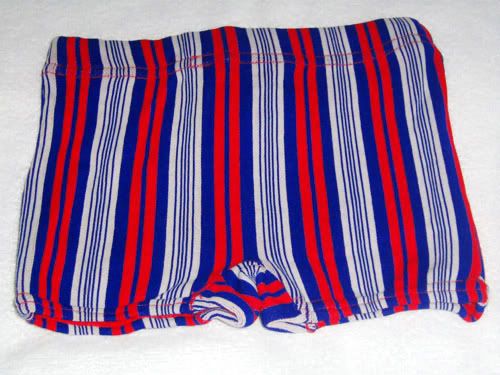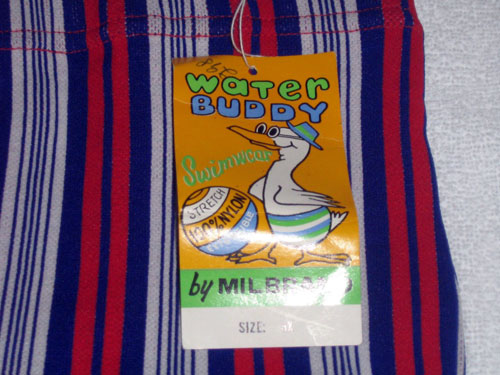 Right on trend, Kim.Ber.Go.
I almost didn't post these because I wanted them myself!  Two adorable little overalls–perfect for summer fun! You could put a little t-shirt under them or if it gets really hot, just suit up and go!  Two for under $12.00 too!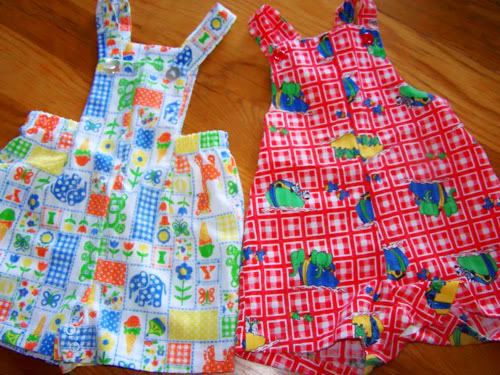 And the prints are killing me! Polka dotted elephants? Green pigs? What kind of zoo has these animals, Etsy seller StellaBluz?
Sunflowers can be a bit of a fickle fashion flower at times feeling more Hee Haw than hip. But this vintage little shift got the sunflower down perfectly. Polkadots and sunflowers make perfect sense to me!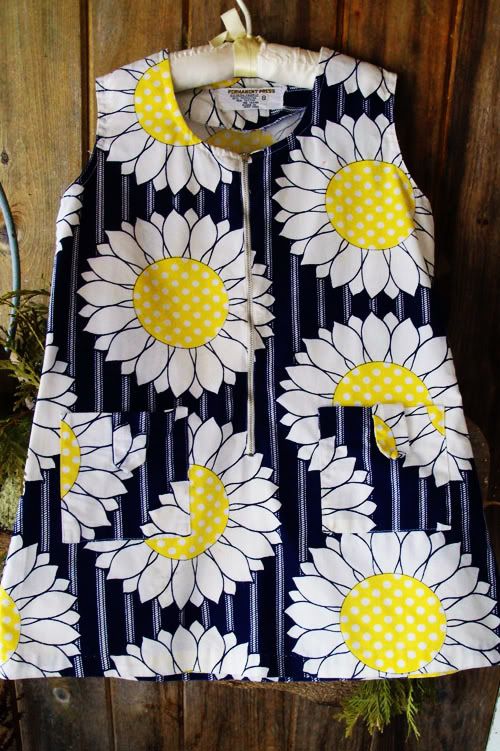 I'm picking up what you are putting down, ebay seller, theVioletorChild.
I was cracking up over these vintage bell-bottoms featuring famous logos. Or *ARE* they? Victer with an E? And Aunt "Gimima"? Even in the seventies, copyright infringement fear was strong.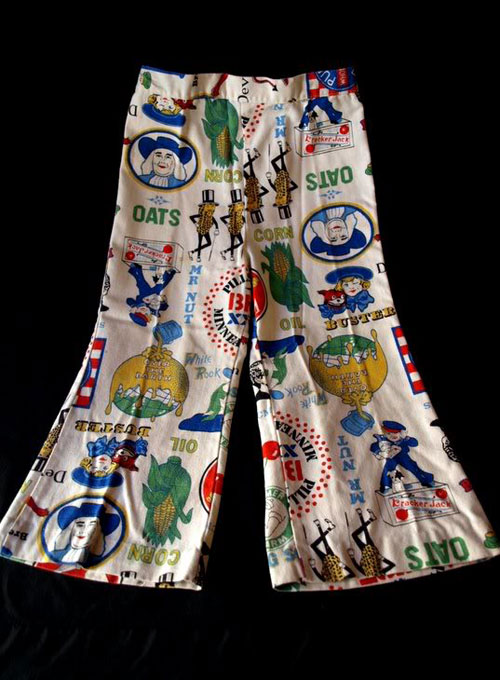 You won this round, RobotParade4Kids…
Blast off with these great sneakers festooned with rocket ships–I see a flying saucer and what looks like Apollo Nine.  But I love the big white rubber shoe guard in front. Man, I would have killed for a pair this awesome!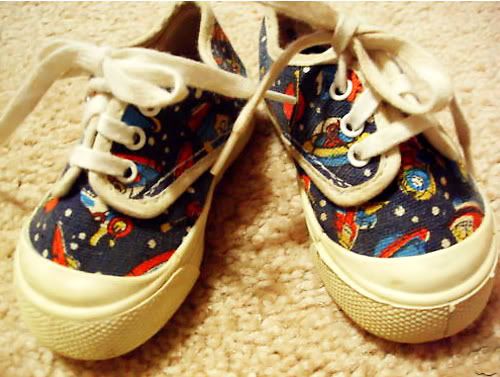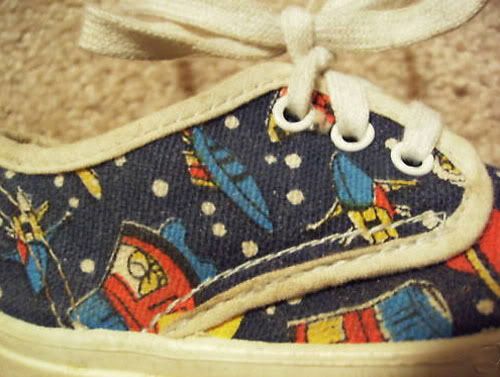 Nice find, ebay seller, Servant2him.
I love this great vintage shirt with an interesting plaid of red and blue. This is one that my sweetie asked if it came in his size. Sorry, sweetie–just for boys!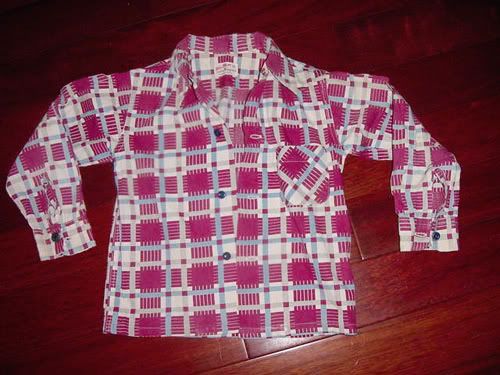 Who wouldn't want to get it for their own "wee men" And it is Sanforized…Â  Excellent call, eBay seller, 4sons4fun.
Even though your little one is too young to be sipping Mai Tais, he can still have a tiki good time with this great bright vintage Hawaiian shirt!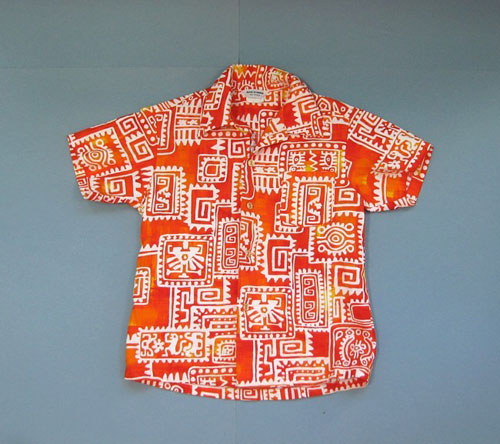 Mahalo, Etsy seller, Uncommon Eye!
And because I love you all so very much, I'm sharing this crown jewel of vintage awesomeness with you (instead of buying it myself), but someone must buy this. Please! This adorable yellow plaid coat makes me want a little chill in the air. Sigh!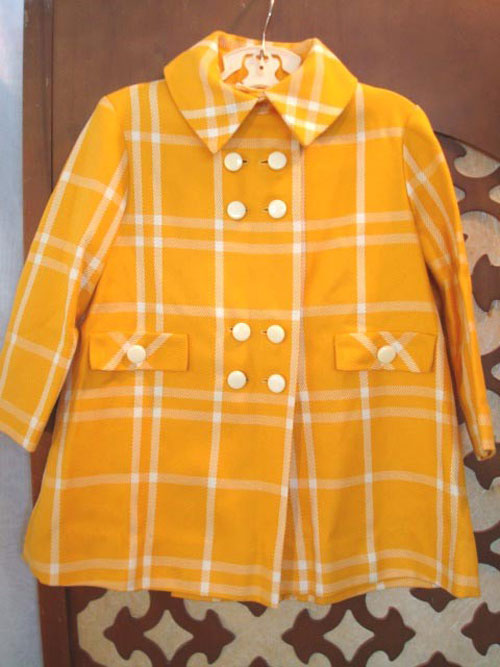 Dottie go crazy over Etsy seller JudyGoVintage!
And then there is this friend.  I just had to include it. The elephant beanie.  I just try to think about the story behind this beanie. What could it be? A fabulous circus themed birthday party–and this hat is the giveaway?  The prototype beanie before they added the propeller? The mind is overwhelmed with possibilities.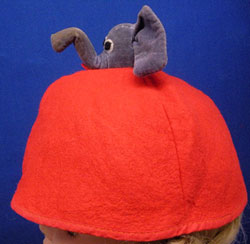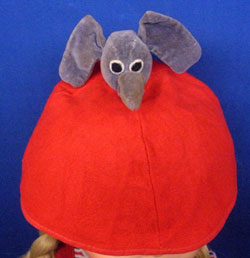 I must admit that I have a complete fear of beanies with things on the top thanks to that surreal (in the true sense of the word) movie by Dr. Seuss made in 1953 full of cold war fear and Auntie Mame camp. Based on a child's dream laced with his hatred of piano lessons, this movie scarred me as a child, The 5,000 Fingers of Dr. T has given millions of children bad dreams for over half a century.
I found that image at the most awesome Website ever, Traumafessions. You can thank me for introducing you to this after after you've spent your entire lunch hour on it. 'Nuff said.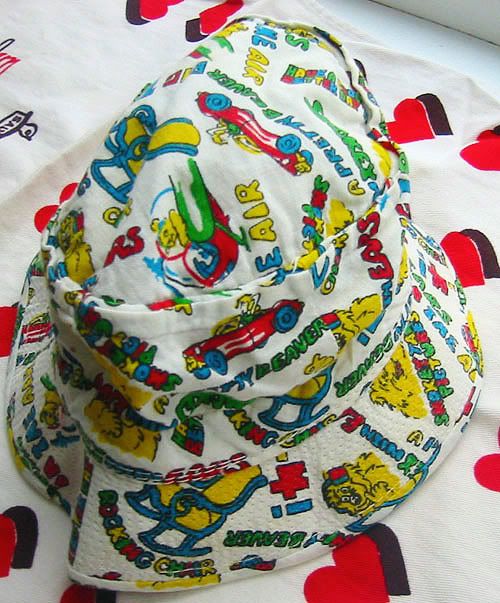 But I saved the best for last–this great vintage hat from MK favorite, Lishyloo!  This hat is just bananas–it has all of these crazy and completely random sayings all over it like "rocking chair", and "a pretty beaver", and "up in the air."
Could I get confirmation on the "a pretty beaver" line, Lish? That is almost too bizarre! Can anyone else make it out?
And to sweeten this week even more, Lishyloo is having a vintage kids clothing sale–with more than 30 items all under $15. Like that hat, which is only seven clams for all that awesomeness.
Happy Monday!