What the?!? Hey wasn't it just Friday? Boy that weekend just flew by! As did January.
Did you all have a wonderful weekend? We did–at the Oakland Museum White Elephant Sale. Spectacular! But we'll share our goodies from that later. Mwa ha ha ha!!! Anyhoo, just because I was vintage shopping in the wilds doesn't mean that I didn't spend a bit of time perusing the online aisles of Ebay and Etsy for all sorts of vintage goodness for you all! Since we've gotten many requests for vintage toys, I'm going to start adding a few to the weekly vintage kiddo round up. Yeeha!
So, on with the show!
What is there not to love about this vintage mod knit coat with navy edging from eBay seller, Rewscountry.
For fun that is out of this world, get a book for out of this world fun! Like this sweet vintage one! Space helmet not included! From Ebay seller, Urlybird_1.
Straight out of the closet of Sally Draper comes this oh so charming little sundress in red white and navy from Etsy seller, flozeevintage.
You gotta love this vintage Mattel dining room and chair set? I wouldn't mind hanging out in that dollhouse. They would look perfect in one of these mid century beauties.  From Etsy seller, The ToyBox.
Oh gracious me, this little fellow is just the living end of adorableness–a vintage knit onesie with I believe a penguin and fish on it. I. Die.  From eBay seller, Retro*cool.
This dress is just too adorable for world–a wonderful is this sassy green vintage dress and jacket combo. And that top print is like something out of Orla Kiely. Â Once again, Rewscountry.
Toot Toot! Check out this vintage Fisher Price toy train from 1964. And under $10.00–that is better than what you'd spend on a new one! Â From Etsy seller, Anna Filomena.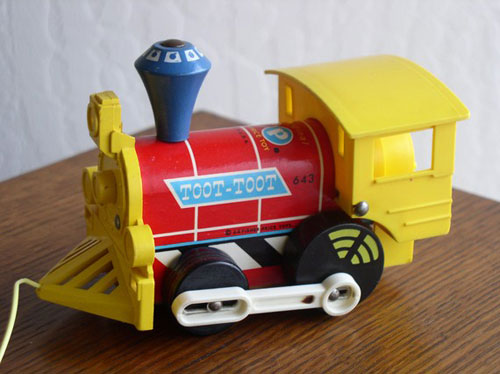 Oh, would you check out these button cute little stand up girlie party favors? Little Red Riding Hood in blue and yellow as well as red. Â From Etsy seller, HeyYoYo.
Now, you know my love of all things vintage cowboy, so you know I had to feature this great but rather subtle vintage cowboy shirt. Now cowboy, but the hat and horse gets it across. From OhSydney.
Oh these darling vintage baby blue shoes–too sweet almost for words. Perfect gift for a new mama. Â From Etsy seller, Plaid Pony.
Well, I hope you liked today's vintage kiddo round up of cuteness, but hang onto your hats and remember to come back this afternoon for some serious sassiness from Alix!
Happy Monday, friends!