I don't know what is in the air right now, but whatever it is my family is getting crazy sick from it! Actually, I did find out what is in the air. Turns out my little hamlet is a "Victorian town"–makes sense since it has more Victorian houses than any other town in California.  And with these little Victorian houses comes exotic plants that were popular at the turn of the century and are in bloom right now and playing havoc with everyone's sinuses. Sigh!
Anyway, I hope you all have had a lovely weekend–when I wasn't blowing my nose, I was searching every nook and cranny of the Internet to find you some dandy vintage goodies for yer youngins! On with the show!
From Etsy seller the Foraging Follies, we have this darling Opie gingham boys shirt.  I'm in love. Just love! Bike with darling bell not included, sadly…
I love these sassy vintage scooter skirts from eBay seller Bibliowhiz. I imagine they belonged to two young cousins  who created a whole dance routine to Build Me Up Buttercup and Aunt Beverly made them these matching skirts. I'm just sayin'…
According to my dapper husband, pea coats are all the rage this fall for men.  So, let's kick it up a notch with adding vintage into the mix with this charmer of a coat.  From Etsy seller, our favorites at Our Retro Toybox.
Strawberry Fields forever with this divine little top here as sweet as summer.  From Etsy seller, SammyLee Vintage.
Who would want a truck, or a dog or a truck on their little boys outfit when you could have a gymnast like on this terrific one piece "roper".  Talk about going for the gold, Etsy seller, MotherMidnight.
Check out this great two tone Ben Franklin shoe in boys size 10.  From Etsy seller LilyBelle Shoes.
You can just see a little girl wearing this darling little teal jumper combo.  With the little ribbon tie. I just melt a bit. From Etsy seller The Green Nectarine.
Oh, this top–with built in bow-tie and nautical them to boot.  I just wish there was a button inside the coat to make the red bow tie spin.  From Miss Lishyloo! I gotta admit this–Lish's stock this week is just insane. I could have done a full post just on her stuff, so I recommend a little stop by her shop, if you can…
Our gal Heather from Etsy shop 3 Ring Circus found the holy grail of awesomeness–a vintage brownie's shirt. I'm so tempted to just buy this now for the Peach.  Brownies are like the mafia where I live.  We had to buy six boxes of cookies so we could walk the streets.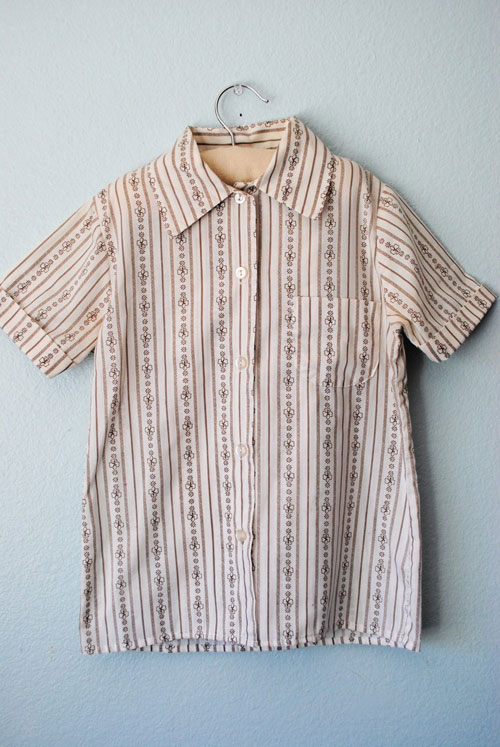 Oooh. check this out!  Who doesn't love a bandanna? And a built in bandanna with matching fabric up the sleeves–and all in one shirt? Well, color me sold, ladies!  And I'm sure this will be sold soon too!  From Etsy seller, Vintage Pickle.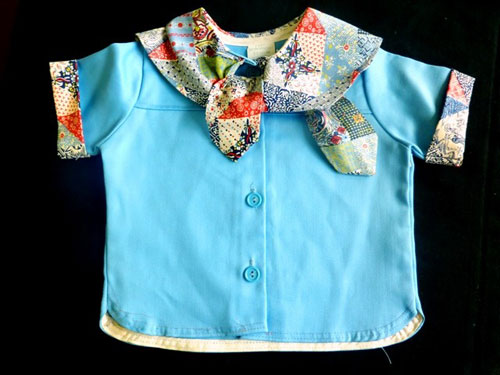 As you know I've been trying to make some of the Peach's winter wardrobe. And although there are terrific fabrics out there, my heart always flutters when I find sassy delightful fabrics that make me smile from ear to ear. And I was grinning like a fool when I saw the great stash Frecklewonder has in her lovely shoppie right now.
Well, that's it!  Only four days left in the week! Hurrah to that, I say!