Happy New Year!! How was your night? Did you have a fabulous night out on the town? Or did you hunker down at home and have a cozy night in with family? We did a little bit of both!
New Year's Eves are a definitely a much more low key event since we had Wolfie….but we still like to get out there and have a little fun. For the last three years Greg's kid band, The Time Outs, have played a fun Count Down show (where they do an early count down at 7pm for the kiddos). This year they decided to take a break and actually just relax on New Years. My friend Lynn hosted a little party and it was super fun—four families, seven crazy kiddos and seven even wackier parents.
Me and my girls like to dress up and we all agreed to get fancified for the night. Â I decided it was the perfect occasion to bust out muh TALL SHOES. I really rarely wear these, partly because I walk a lot and partly because I'm a mama and it just ain't practical. BUT as far as tall shoes go, I love 'em….and they are comfortable enough that I could wear 'em at a party where I was only going to be standing around or sitting.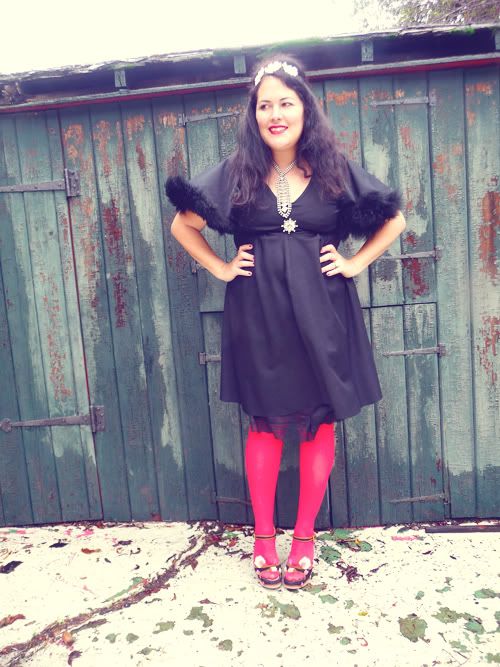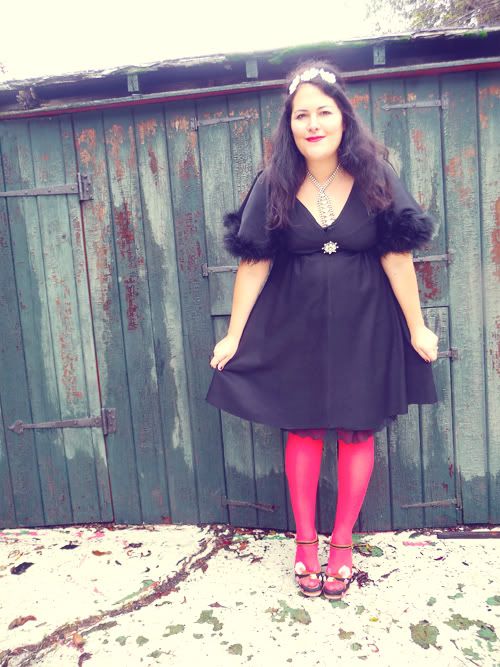 You're probably thinking, "They don't look that bad Alix…." but check out these babies: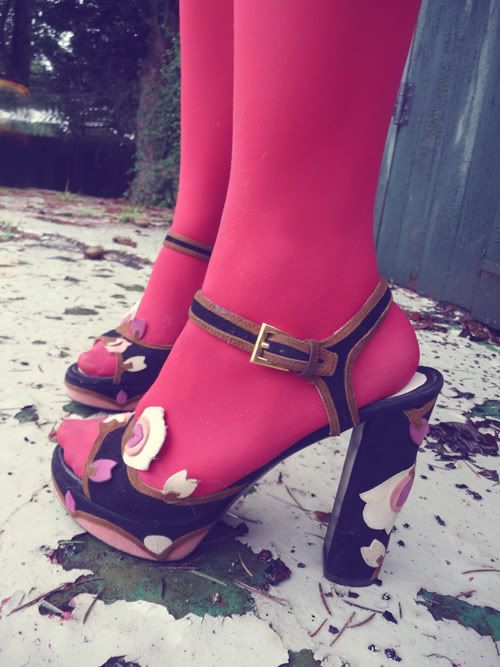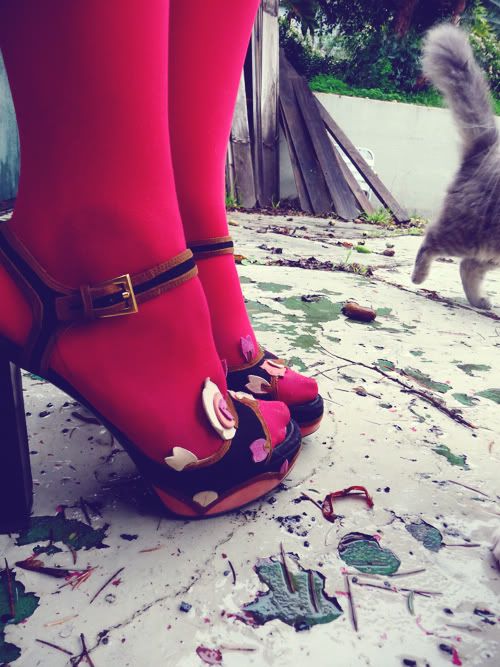 Hatch cha cha! I love the flower details on the platform and the heel. They're really pretty shoesies…..Kiki the cat seemed to think so too.
Oh yeah, here's the rest of what i wore:
+ dress, vintage little number with feathers on the sleeves, thrifted
+ vintage rhinestone "tie" necklace and pin
+ black lace slip, thrifted
+ pinkie red tights. Target
+ crazy clomper shoes, Prada. Yes. That Prada. Bought at the Neiman Marcus outlet for a steal. I love the flowers on the heels. I fully admit I nearly wiped out on a pine cone walking up Lynn's driveway. On the up side, I kept forgetting I was no longer 5'3″ and enjoyed towering over my friends for once! OK. So I didn't tower. But I was at least nose-to-nose….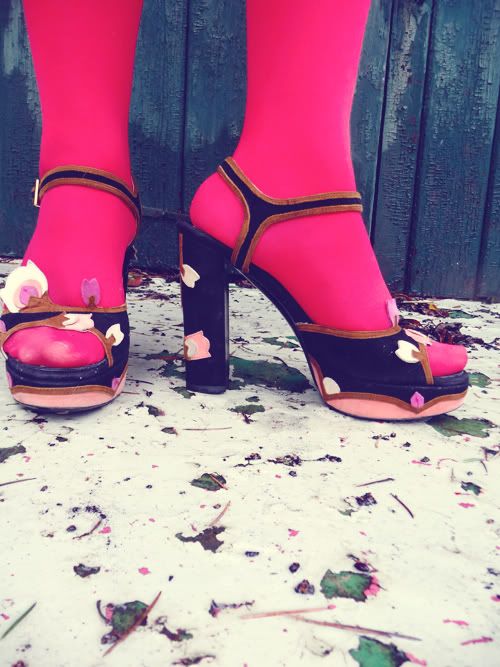 I got a little snowflake flower headband in Michigan that I wore for Christmas….I figured I'd bust it out again. It's totally a poor man's Starlette crown, but I felt festive! (I swear I will purchase one this year FO SHO. I am obsessed. So pretty….Sue is a genius!)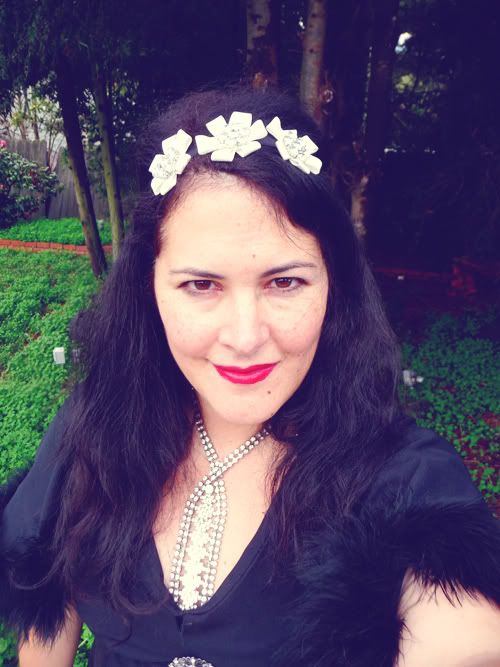 But back to the party. It was loads of fun. Mellow enough that it was a great time but lively enough that we felt like we had a great night out. My friend Lynn, the hostess, is a New Orleans girlie and she made a huge pot o' gumbo and a red velvet cake. I asked my Twitter pals for some good appetizer recos and ended up making everything they suggested—blue cheese stuffed dates, wrapped in bacon (AHHHHH! So good), little mini mac-n-cheeses (also quite tasty) and some brie-filled mushrooms which were also super duper easy and good.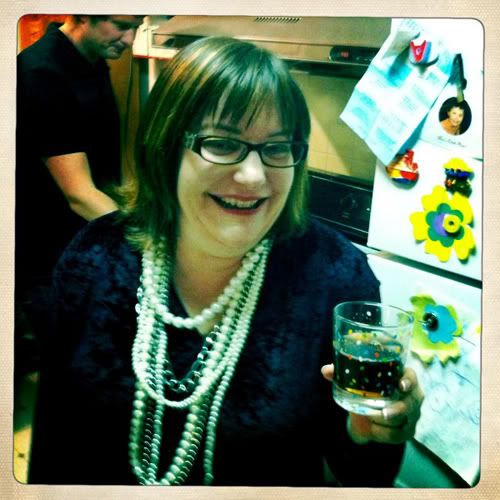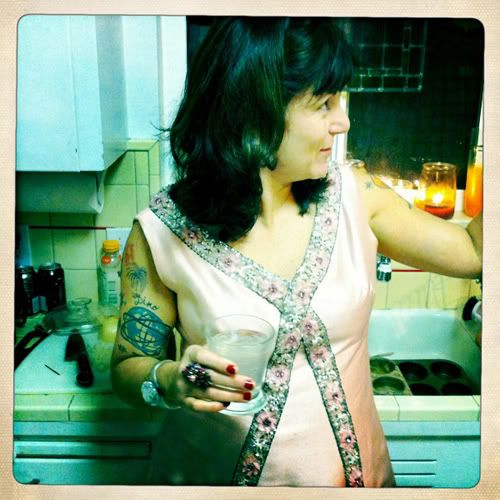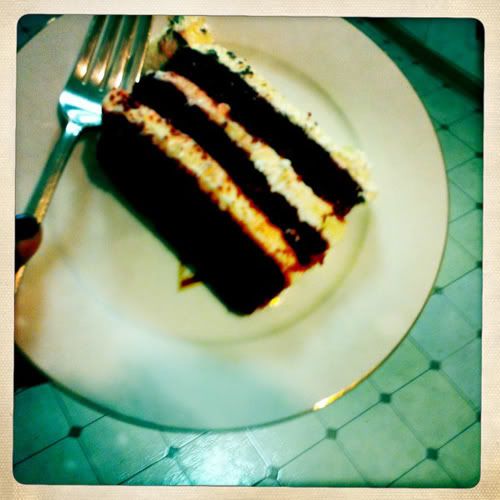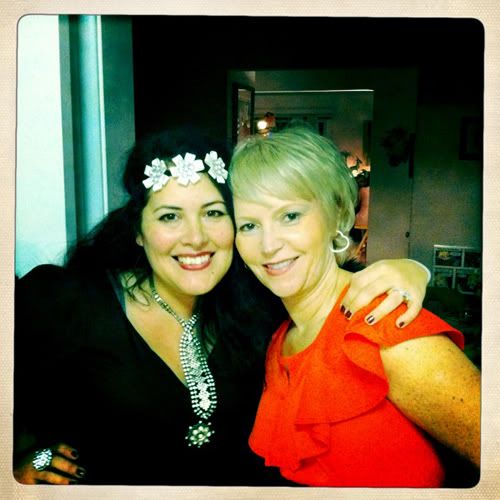 My friend Denise (the glamour puss below) is always hilarious and lots of fun. She brought lots of cool goodies for the kiddos to play with—including little laser rings and sticky mustaches. The mustaches were a huge hit and at some point we all ended up wearing them . And by "we" I mean the grown ups. The kid's had NO INTEREST.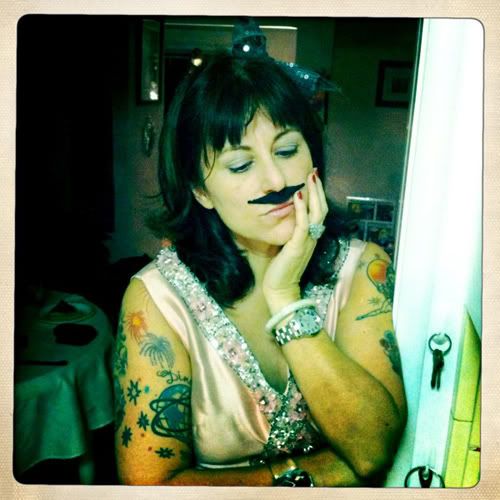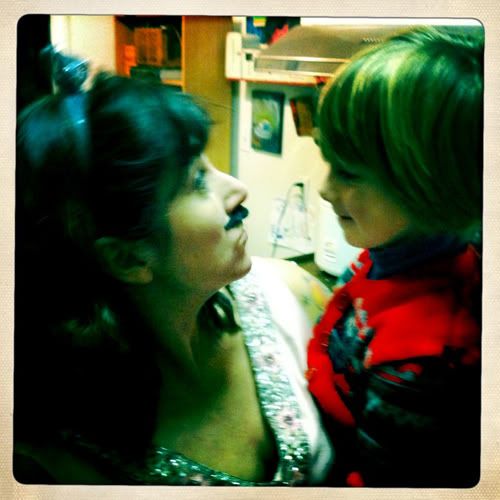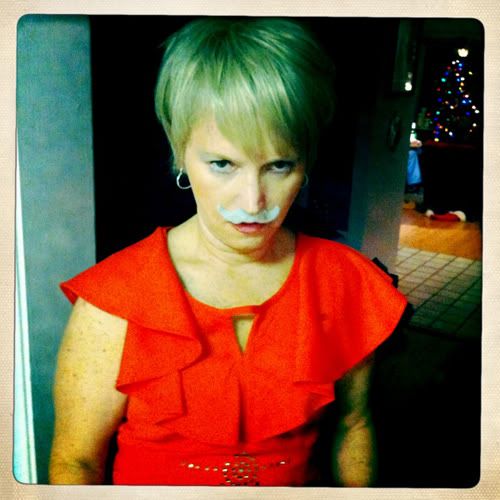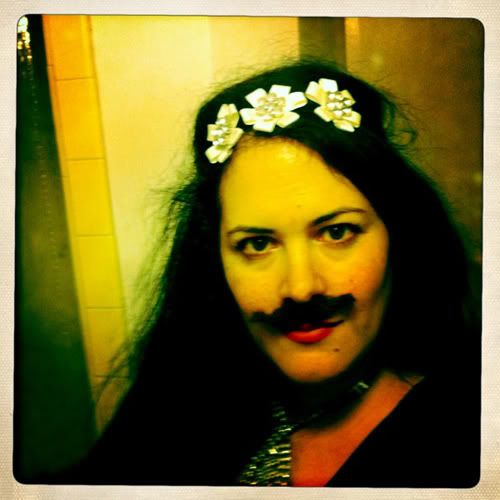 I waltzed into the kid's room to show off my 'stash to Wolfie who took one look and said, "Will you PLEASE take that off??" We were totally an embarrassment to the kiddos. Sigh.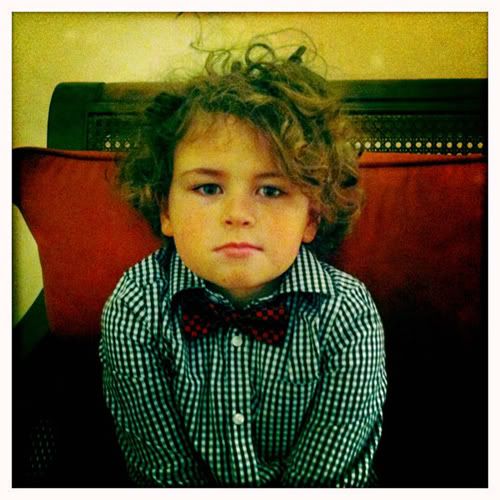 We all ended up playing Rock-n-Roll Charades (where you act out band names and try to guess 'em….it was hilarious…my best rounds were Aztec Camera and Rush…Conway Twitty and Crosby, Stills and Nash were my worst!!) and then everyone made party hats from a stash of crafting supplies Lynn rounded up. This was a huge hit with the kids! My friend Chrissy's little boy Kirby made this amazing black feather thing that was cracking us up—it looked like something Cher would wear. He kindly let me wear it: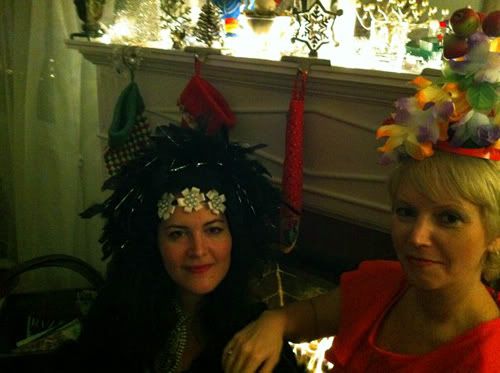 So that was our crazy night. I think we started off 2011 in a great way….lots of great friends, good food and a fine dose of silliness. I hope you had an amazing evening too and lets make this new year the best one yet!

HAPPY NEW YEAR!!!